Compressor / Air filter / Regulator
---
---
PRECISION REGULATOR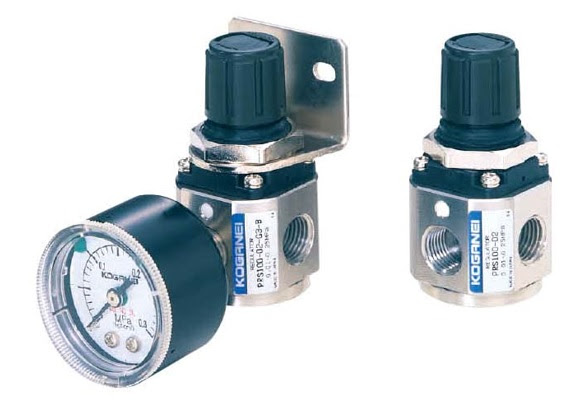 Our precision regulators offer a highly sensitive, balanced control poppet design offering almost zero hysteresis and set point drop. We can provide the right solution for your most difficult applications. Let us know where we can help you today.

More...


---
PROPORTIONAL REGULATOR


The ETR offers a simple construction design which allows for high flow rates with accuracy's down to 0.5% F.S. Our closed loop circuit is ideal for applications requiring high repeatability. Contact us today to request a product to test in your application.

More...


---
Koganei Air Treatment Equipment is used to protect pneumatic equipment from breakdown trouble. Ideally you will use dryers or line filters on sub lines and use filters, regulators, lubricators, etc on usage at the end of the line for air filtration and pressure regulation.

Koganei has a complete line of components allowing you to select exactly what air quality or flow is needed in your line.

NPT Thread Air Preparation




NPT thread specification
All combinations available (regulator, filter, lockout &more)

More...



---
Meeting your filtration needs


You can select a combination that can provide filtration down to 0.01 micron, ensuring your processes run smooth.

More...